Dogs are loyal animals, and it's no secret they make amazing pets. I own 3! However, learning how to build an outdoor dog potty area on concrete is important to keeping them and your house clean.
The worst nightmare for new dog owners and dog lovers is coping with a dog peeing/pooping in the house.
Your pup may make a mistake or even go all over your yard. But maybe building an outdoor dog potty area is all you need to provide your pooch with a safe, clean, and private area to relieve himself.
It's a simple, cost-effective solution, easy to install, and most importantly, it works!
The outdoor dog potty area is an excellent option for busy pet owners who don't want to leave their dogs home alone all day. It's also pretty low maintenance in the scheme of things and doesn't require a ton of clean-up!
In short, an outdoor dog potty area is a win-win situation for dog owners AND their pups.
But, how do you build one at your home?
What materials do you need?
This is the real challenge!
Why Should You Build An Outdoor Dog Potty Area?
The outdoor dog potty area is one of the best investments you can make in yourself and your dog. It will give your dog a place to relieve themselves outside that's dedicated to them and easy for you to keep clean.
If your dog is not trained to use a designated potty area outside the house, then you may find them going to inappropriate places, like your lawn or neighbor's yard. It can cause serious health issues for your dog and could make you embarrassed and frustrated.
So what can you do about it? Well, you can build an outdoor dog potty area, which will keep your pet healthy and happy, and it will also help you keep your yard and house clean.
Also Read: What Happens if a Dog Eats Wood – Things You Must Know
Things You Should Know Before Starting Out
You'll need to consider a few things before building your outdoor dog potty area.
Check how much space you have available. If you have a small yard, you'll want to ensure you have enough room to build your potty area.
Determine the materials you'll be using to build your potty area. This will help you decide whether you should be using wood, pea gravel, plastic storage bin, or cement.
You'll also need to decide whether you'll be building a permanent structure or a portable one.
What Materials are Required for Building an Outdoor Dog Potty Area?
To have a designated potty area prepared on concrete, you will need the following things;
Some Foundation Material: Get some foundation material; in our case, we use cinder blocks that will act as a foundation wall and distinguish the natural lawn or artificial turf from the potty area. You can select cinder blocks of any height suitable for your specific area. You can also opt for a wood box or anything you find appropriate.
Weed Inhibitor: Weed inhibitor helps protect the area from weeds and insects, which will ultimately help keep your dog healthy and the space clear.
Some Soil: Since we will be keeping the potty area above the ground, we will need some soil to fill the space inside the cinder blocks.
Surface Material: If we want a natural look to the potty area (we do), we will need some sod; if you already have real grass or artificial pet turf on your lawn, then it's best; otherwise, make sure to get some sod to cover the surface of the potty area.
Something for the dog to aim At: Well, it's not NEEDED, but since we are building a potty area, especially for the dog, we should put something for them to pee on. Dogs love to pee and poop near a fire hydrant right!? So buy one or keep a big stone there; it's totally up to you, your budget, and your yard.
Some Basic Gardening Equipment: You must have all the essential gardening equipment, such as a shovel.
How To Build An Outdoor Dog Potty Area On Concrete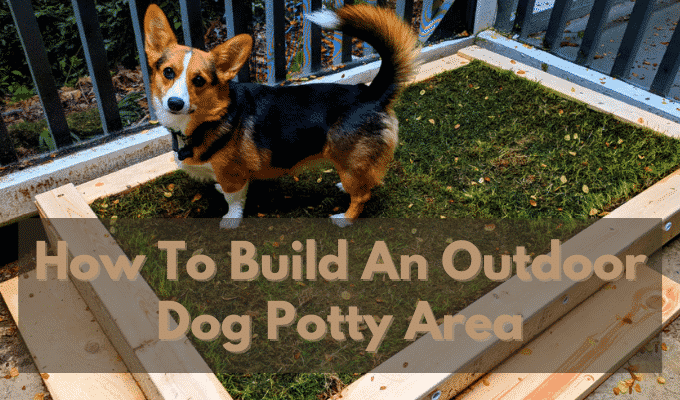 Create The Perimeter
The first thing you want to do is create the perimeter. When making a perimeter, make sure that your dog will have enough room to go to the bathroom without being in your way; in short, the perimeter should be at least 5×5 feet. If you have a small yard, manage it accordingly.
Carefully construct the foundation walls using cinder blocks, or if you want a wood box, you can also use that, but wood is not as durable throughout the different seasons. So this really depends on what part of the world you live in.
Apply the Weed Inhibitor
A weed inhibitor is a chemical that prevents weeds from growing. It's used in areas with no plants or trees, like sidewalks, parking lots, etc. If you don't have a weed inhibitor, you can use wood chips or mulch.
Add the Soil
Once you have applied the weed inhibitor, it's time to cover the whole area with soil. Take your shovel and put soil in the covered area with soil.
Make sure to leave a few inches of space where we will be placing sod; press the soil a little by standing upon it. After that, water the soil and wait for a few hours.
Cover Soil with Sod
Now cover the soil with sod; at this point, you need to pay attention, don't just overlap the sod, as the top layer of sod will not take roots if they overlap.
When you have completed the sod layer, press it with a roller to help it stay flat and grow roots. Otherwise, there will be a gap between sod and soil, and the grass will not grow properly.
Once everything is done, just water the sod for a few days; once the roots of sod grow into the soil, you are good to go.
Put a Stone or Water Hydrant for your pup to aim at
Although this is not NEEDED, it's worth investing a little bit in something that will help you train your pet.
Dogs love to pee on something such as a stone, a hydrant, or anything they find easy to pee on.
Also Read: Why Do Dogs Eat Deer Poop? Everything You Need to Know
How to Train Your Dog to Pee/Poop in Potty Area
Dogs are intelligent animals and can understand what you are trying to teach them. If you want to train your pet to pee/poop in a specific potty spot, it's totally possible, but it will require some understanding, effort, AND patience.
To train your pet to pee/poop in a potty area, follow the below steps;
First, you need to understand your dog's peeing/pooping routine, take notes for a few days, and get a pattern of your pet's habits.
Now, whenever it's time for your pet to do their business, take them out to the potty area and use the words like "Pee Now" or whatever you decide will be the command. Choose one and stick to it!
If your pet pees/poops, reward him with a treat. If not, then don't worry; try again.
You need to repeat the 2nd and 3rd steps for a few days until your pet starts learning to pee/poop outside on the newly constructed potty area.
How to Disinfect Outdoor Dog Potty Area
It is essential to disinfect the outdoor dog potty area. With time, your dog's potty space may get infected with different kinds of bacteria, which can ultimately cause problems for you and your pet.
Below are a few ways to disinfect your pet's potty area;
Use Disinfecting Sprays: Disinfecting sprays are convenient when cleaning your pet's potty area, as they kill most bacteria. It would be best to use disinfecting sprays at least once a year.
Clean the Area: You should keep the dog's potty area clean by rinsing the waste. This will keep down the chances of getting infections to a minimum. It can be done without using special sprays or tools every week.
Build a Potty Area Where the Sun Shines: Sunshine is a natural aid against bacteria and viruses that keep you and your pets safe. So make sure to build the dog's potty area where the sun can shine for at least 3 hours a day.
Most Asked Questions about Dog Potty Area
What is the best surface for dogs to poop on?
The use of concrete in dog potty areas has been gaining popularity. The reason is that it's a great alternative for artificial grass lawns, especially for those dogs that are prone to digging. Also, it's easy to hose down!
How much will it cost to build an outdoor dog potty area?
The cost of building an outdoor dog potty varies depending on where you live. You can build an outdoor dog potty for as little as $150
What is the best size of an outdoor dog potty area?
There is no standard size for an outdoor dog potty area, but it should be at least 5 feet wide and 5 feet long; the bigger, the better.
The Bottom Line
Having a dog can be fun, but maintaining your furry friend can be a headache, especially cleaning up after your pup.
That's why it is always recommended to know how to build an outdoor dog potty area on concrete and train your dog to go to the bathroom in the special dog potty area you build them.