Every dog owner knows how much their dog enjoys but also needs their playtime. But sometimes, your lifestyle may not allow you to spend hours entertaining your dog every day. Luckily, there are many dog toys that move, that can actually offer that playtime to your dog without you doing anything at all.
Although, choosing the perfect toy that will make your dog happy has some challenges and requires a bit of research. So, keep reading to find out the safety issues of the dog toys that move and what they can offer to your furry best friend.
Choosing the Best Dog Toys That Move for Your Dog
Since you will be giving the toy to your dog for a solo play time, you first need to make sure that that toy is safe for your dog. Mainly you need to be sure that your dog won't be able to chew through the batteries that the toys have! Also, every dog has a different chewing style and strengths and a different personality. Some dogs enjoy snuggling with their toys, others want to carry them around, or some even see them as a potential threat and just want to chew them, so you need to pay attention to what your dog wants out of their playtime and know their chewing strength before choosing the toy!
Why you should choose Dog Toys that Move
A lot of research shows that a dog's brain Is very similar to a brain of a toddler. This includes a low ability of self-control, meaning that they also need to be entertained and cared for in order for them not to act out. Lucky for you, the moving dog toys can offer them just that! However, just the playtime alone is not the be-all and end-all when it comes to benefits. There are many others that come from entertainment, such as:
Exercise
Mental Stimulation
Weight Management
Improved Health
Stress Relive
Chance to act our instincts
With that said, let's share our Top Picks of the Best Dog Toys that Move and dive into them individually.
Our Top Picks
D.Y. TOY Weazel Ball
ZEUS The Bulldog
Hyper Per Doggie Tail
Babble Ball
NEILDEN Squeaky Dog Toy
Wickedbone -Smart Bone
Ricochet Dog Toy
PetDroid Interactive Ball
Wobble Wag Giggle Ball
Starkmark Treat Dispensing Chew Ball
Make sure you check our following comparison table to make your choice easier.
Top 10 Best Dog Toys that Move
D.Y.TOY Weazel Ball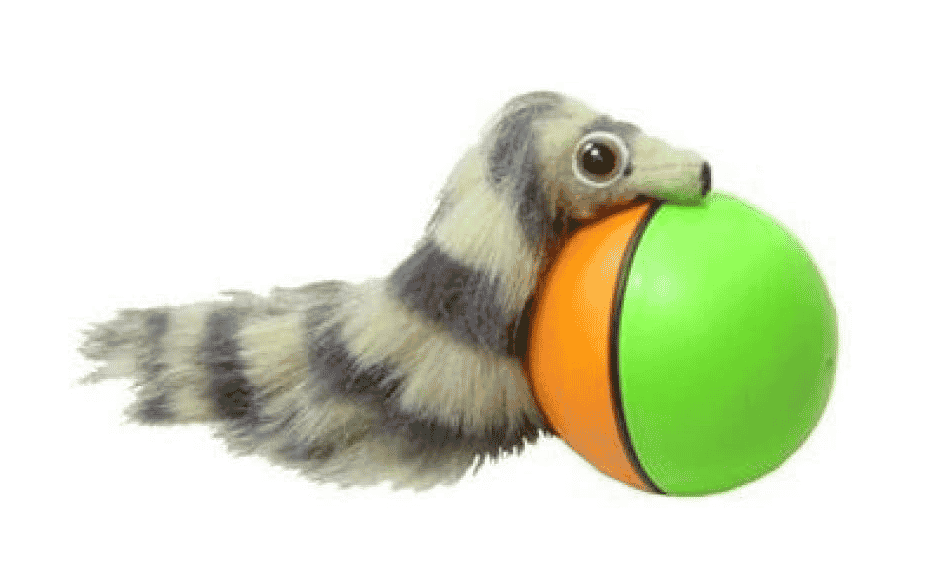 The Weazel Ball is a classic when it comes to affordable dog toys that move. It is very attractive to many dogs because it has amazing motion, and also, the weasel flips around instead of just vibrating or twitching. It is the perfect toy for most small and medium-size dogs, and they can play with it safely, although it is not solid enough for larger dogs, especially those that like crunching their toys.
Pros
The flipping around of the weasel encourages your dog to play with it.
The motion encourages your dog to chase.
Provides entertainment for an affordable price
Cons
It can be challenging to turn it on and off
Even though the ball is tough, it can still be destroyed and cause battery exposure, which can be risky.
You need to twist it to turn it off, and if you don't do that, the batteries will run down quickly.
ZEUS the Bull Dog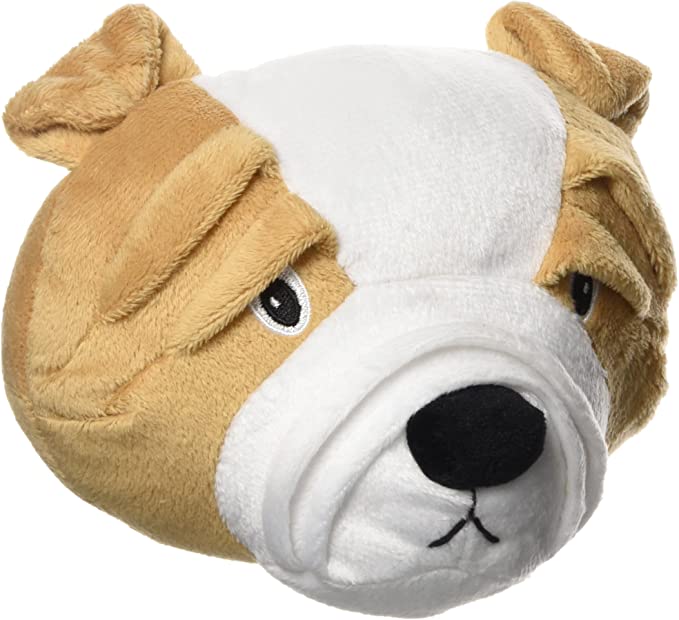 This soft and ball-shaped toy is one that almost every dog will enjoy. It is the perfect toy to pick up and throw around, but that is not the only thing that your dog can do with it. ZEUS, the bulldog, has various behaviors that can entertain your dog and make it interact with it, such as the way he wiggles around and rolls over unpredictably.
It is a solid toy, and your dog won't be able to access the batteries easily, but it can surely access the turning on and off switch, and it even may start doing it accidentally while playing. But all in all, such a toy will definitely provide your dog with some fun and will stop it from going under your bed or hiding in any place to find comfort.
Pros
Since it is soft, it doesn't make any noise even on a hard surface.
It works great outside on surfaces such as grass or even muddy grounds.
The cover is machine washable, so you won't have any problems with cleaning it even if your dog takes it outside.
Cons
Your dog may be turning it on and off constantly while playing because the switch is easily accessible.
It may be challenging for you as an owner to operate the toy.
It doesn't constantly move away from your dog, so it may not trigger their chase instinct.
Hyper Pet Doggie Tail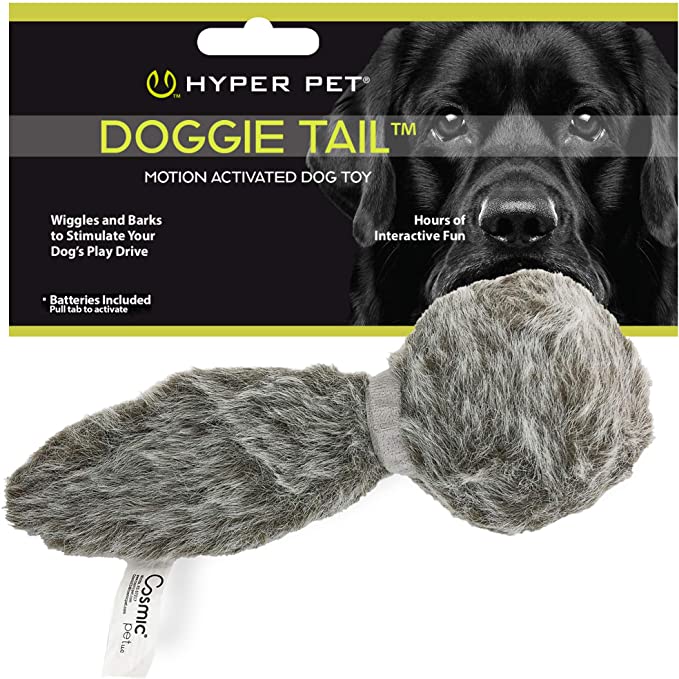 Hyper Pet Doggie Tail is probably the most durable one out of all the dog toys that move out there. It can definitely take even the most hyperactive dogs that like to bite and throw around their toys. It has a very solid battery compartment, so you won't have to worry that it will open or that your dog may chew into the batteries. The Doggie Tail is fully covered with fabric, meaning that it's not going to make any noise, even on hard floors.
It encourages your dog to play actively by vibrating, wiggling around, and even making barking noises. But of course, it also has some pros and cons.
Pros
Totally silent when compared to other dog toys that move, even on tiles or hardwood floors.
It is available in multiple designs from which you can choose, such as a unicorn or a monster.
Amazing safety strap that will keep your dog from getting close to the battery.
Cons
It is operated by buttons, so you have to press them to turn it on and off.
There is a chance that a bigger and more destructive dog can twist open the toy.
Babble Ball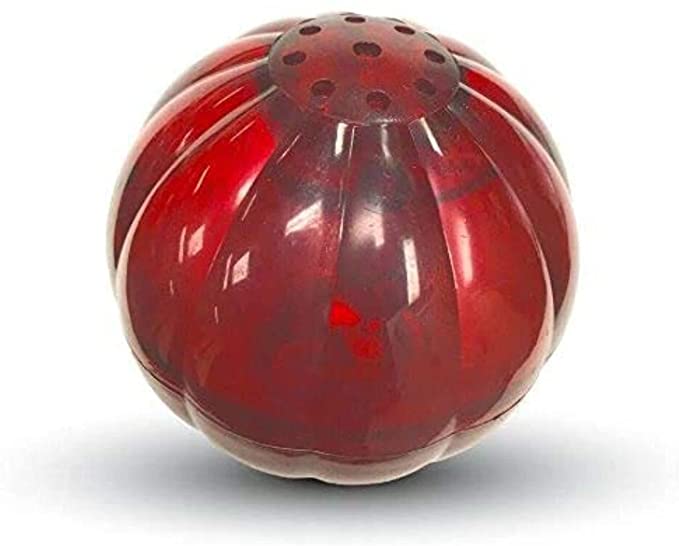 Since forever, toys such as balls and dog frisbees have been known as the most popular toys among dogs. However, this babble ball brings something new to the table! It offers additional fun to your dog's playtime, thanks to the sounds and flashing lights that it has. It even has 18 sounds that your dog won't be able to get over.
This ball comes with batteries in the packaging, and it will be a long time until you will have to change them. It has a durable design, although it is not made to be a chew toy, so you may have to train your dog not to chew on it.
Pros
Even though it is not a chew toy, it can still take some chewing from a smaller dog and not be destroyed.
It is very affordable, for all of the features that it offers.
Cons
You can't turn this ball off, so it can be frustrating when it becomes active and starts making sounds by just feeling some vibrations even when your dog is not playing with it.
It doesn't have the most amazing build, so you will not use this toy for years.
Some dogs may be afraid of the sounds that this ball makes.
NEILDEN Squeaky Dog Toy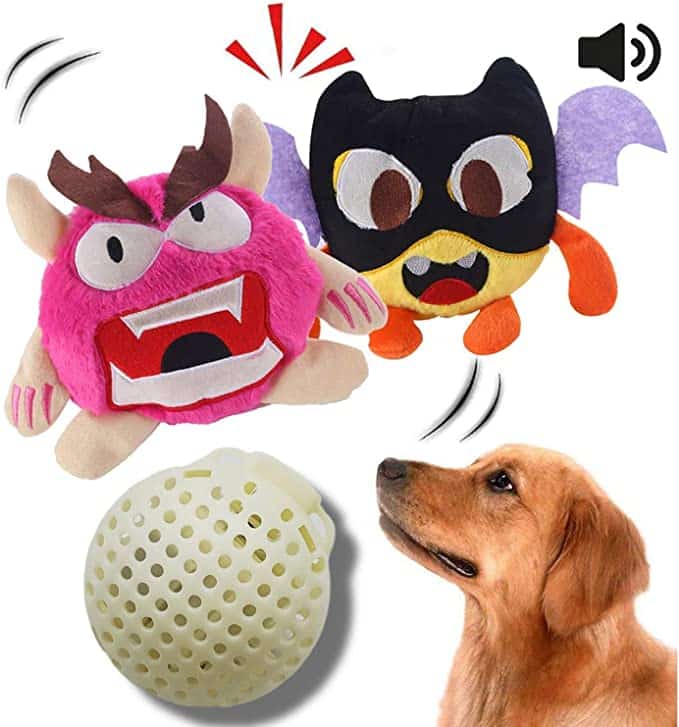 This amazing toy has a very sturdy construction meaning that it will keep the batteries away from almost every dog. Another great thing about it is that you won't have to change the batteries all the time like you have to with the other toys because you can simply recharge the toy.
All in all, it is a toy that will jump around and shake around the room, and it will for sure make your dog playful. Also, it comes with two covers that you can switch around to stimulate interest or simply to wash one without leaving your dog without a toy.
Pros
The ball that goes inside the covers has a very sturdy build.
With it, you get two cut and colorful covers.
You don't have to replace batteries constantly because you can recharge them with a USB cable.
Cons
This toy makes noises, which for some dogs may be scary, and they may end up not liking the toy.
This ball bounces and shakes, but it doesn't move around, so it's not going to stimulate the chase reflex.
Ricochet Dog Toy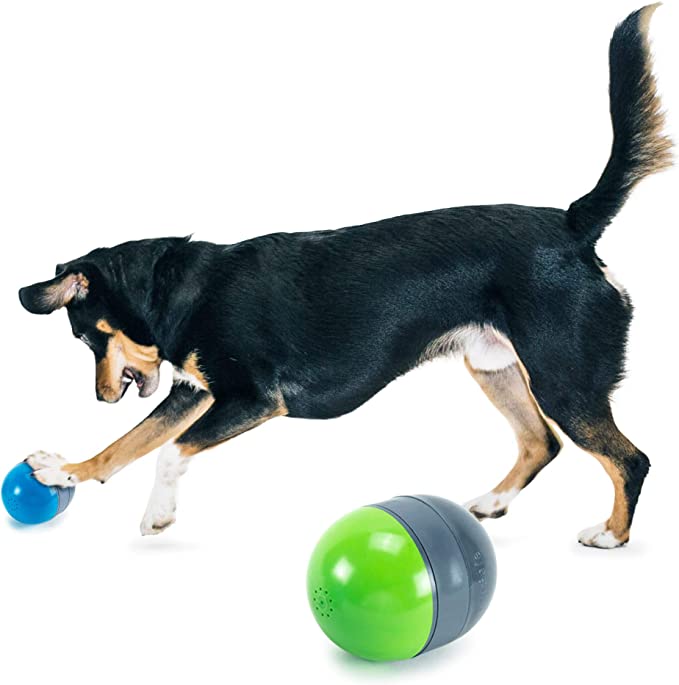 This ball will for sure keep your dog entertained and playful without any assistance needed from you. It is PetSafe designed, and it contains two separate balls made from plastic that need to be charged and synced together by using Bluetooth.
The two balls work together, so when your dog chases one of them, the other starts to make squeaking noises to grab its attention. As the dog's attention goes to the other ball, the first one goes off. The way in which this toy works will for sure keep your dog's interest and encourage it to play.
The balls require batteries, although they can last for a month without recharging them, thanks to the amazing feature that turns off the toy automatically if it doesn't recognize any activity for an hour. Also, it is worth mentioning that the two balls can stay synced for as much as 30 ft apart.
Pros
It is made from hard, durable plastic, making it a great toy for destructive dogs who usually destroy their toys.
The fact that the balls are synced encourages your dog to move while keeping it mentally stimulated.
Cons
Some dogs may be afraid of the loud sounds that the balls can make.
It is a plain ball, without any fluff or details, which can be boring to some dogs.
It is pricier compared to other toys on this list.
Wickedbone – Smart Bone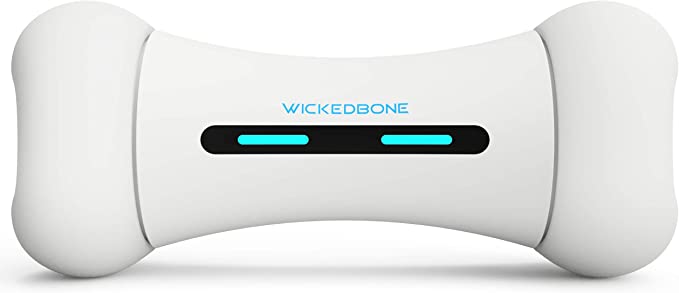 This Smart Bone is probably the best among all the interactive dog toys that move that you can surprise your dog with, of course, if you don't mind spending a bit more in order to make your furry best friend happy.
Wickedbone toy has various behaviors, and it acts depending on what your dog is doing. For example, if your dog ignores the bone, it will constantly tease until it grabs its attention. Another amazing feature is that you can let the toy act on itself, or you can control it by using a smart device.
Pros
It acts depending on your dog's interaction, which encourages continued play.
It has advanced technology, meaning that it will offer way more than the average dog toys that move.
You can control the toy by using an android or apple device.
It has a steady construction, and it will last a long time.
It offers 12 different systems, and all of them react differently to chase, avoidance, touch, etc.
Cons
It doesn't have any animal appearance or any fluff to it, so it may not be attractive to many dogs.
Some of the behaviors that this toy has may be scary for some dogs, such as following them around.
It is pricier than the other dog toys on our list.
PetDroid Interactive Ball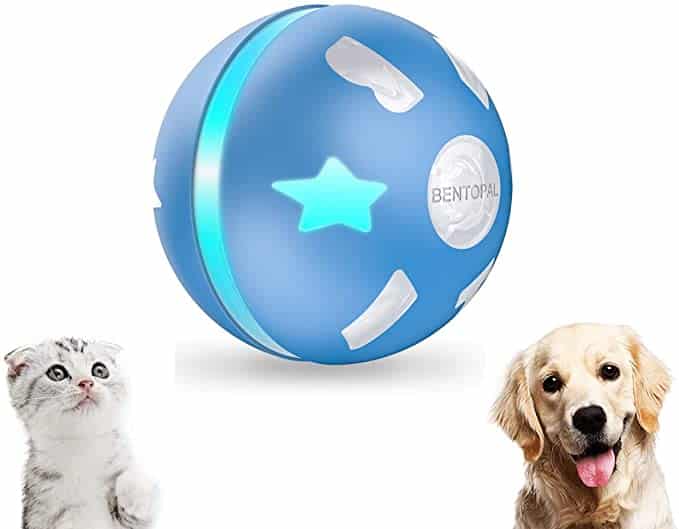 As we already said, some dogs may be scared of all the sound, songs, and covers and may enjoy playing with a simple ball that just moves around without doing too much.
So, if you think your dog just ones a cool ball, then this is the right one to get. This ball moves around on its own and allows your dog to have some fun chasing it around. It has two modes and rechargeable batteries. The batteries last for one full day, so you won't have to worry. Your dog won't be bored with it.
Pros
Depending on the mode you choose, this ball can either roll around or bounce, which will stimulate the hunting reflex in your dog.
There are some accessories that you can attach to the ball and make it more appealing if your dog doesn't like the ball itself enough.
The batteries are rechargeable and last for a full day.
Cons
Bigger dogs can easily destroy this ball because the style, design, and construction of this ball are made for smaller breeds.
It won't work that great if placed on a carpet.
Wobble Wag Giggle Ball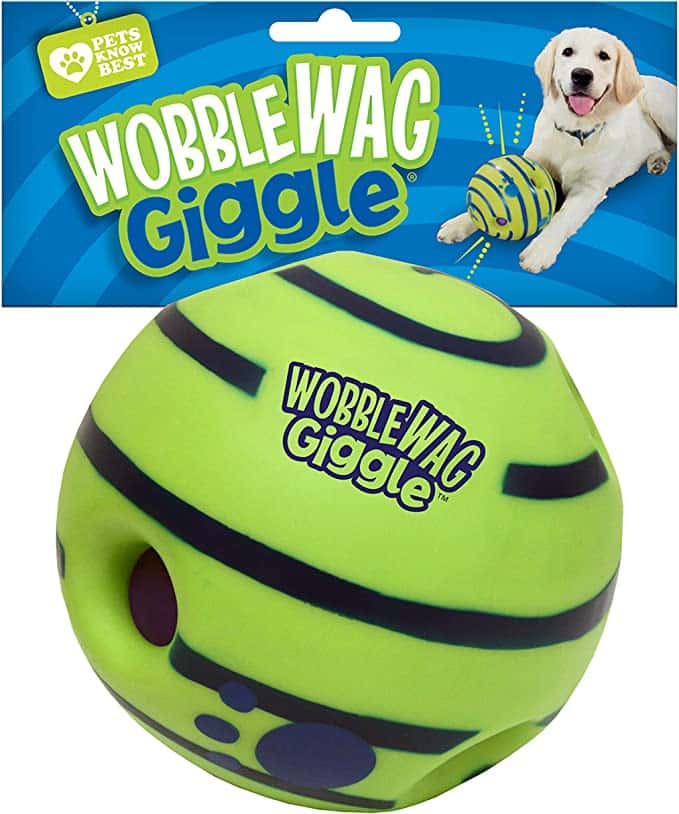 As the name may suggest, this ball makes some entertaining and fun giggling noises! Also, it moves around unpredictably when touched, which will most definitely make your dog play with it while running around and exercising.
It has six pockets, making it easy for your dog to grab it, pick it up, or throw it in the air. And the best part about this wobble ball is that it doesn't require any batteries.
All in all, it is a toy that will surely keep your dog entertained for hours.
Pros
It doesn't require batteries, so your dog can have its toy anywhere, anytime.
It has a glow-in-the-dark option, so you won't have to worry about taking the toy on your night walks.
It is suitable both for indoor and outdoor play.
It is made from a material that will be easy for your dog to grip and also has some grip points that help while carrying it around.
It is way more affordable when compared to the other toys that require batteries.
Cons
It may not be suitable for destructive dogs because aggressive chewing can destroy it.
Since it doesn't have batteries, it doesn't move on its own without any assistance.
Starkmark Treat Dispensing Chew Ball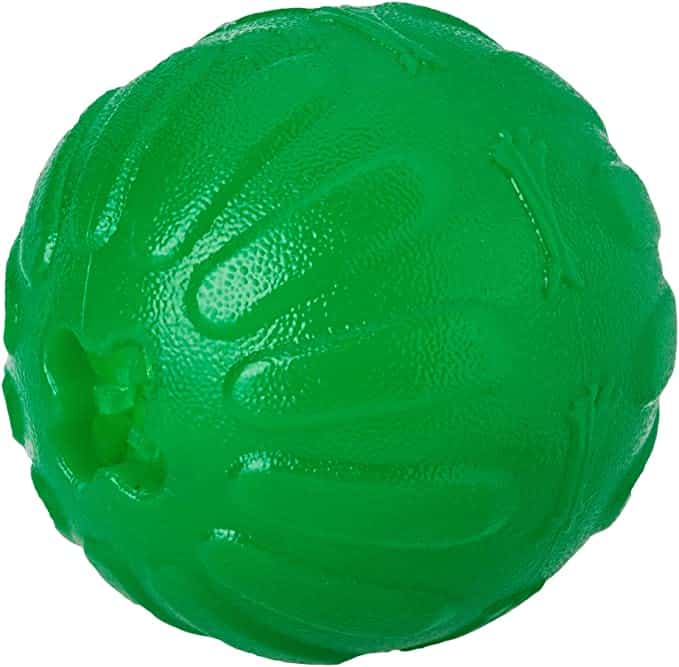 This chewing ball can work both ways, as a simple fetch toy and also as a slow feeder, making your dog both feed and entertained at the same time.
It is made specifically for dogs that tend to get aggressive with their toys, so you won't have to worry that your dog will chew through the ball quickly.
There is a central cavity inside the ball where you can store your dog's favorite treat, and your dog will have to work hard in order for the treat to fall out. It is a very easy-to-clean toy, and you can also put it in the dishwasher.
Pros
It is a very durable toy that your dog will enjoy for years.
You can use the ball both as a slow feeder when you are not at home for the day or as a toy that your dog will love.
Cons
The treats can be hard to reach for some dogs.
It can be challenging for you to fill the ball with treats.
Conclusion:
With our busy lifestyles nowadays, it can be hard to pay attention to our dogs all the time, but most of us still want our dogs to be happy and to stay out of trouble. That's why the dog toys that move actually exist! Dogs can become very bored, anxious, sad, and restless when left alone, so it is important to have the right toy that will keep them company and fulfill their days.