Recently, my dog ate some chocolate bars. It was a scary moment for us because I was fully aware of the consequences.
So when I saw her vomiting and having other symptoms of diarrhea, I panicked even more and immediately called her vet for advice.
The vet confirmed that she had eaten chocolate and asked me how much she ate and when. I had no idea! All I cared about was how to get it out of her system.
She went ahead to explain that usually, dogs will vomit the contents of their stomach if they are unable to digest them. However, you may have to help your pup induce vomiting to shorten the duration of theobromine in her system and reduce its effects.
So, I had to learn the best way to make my dog vomit those chocolates, and I will be sharing each step with you in this article. However, you should first understand what chocolate poisoning is and how it affects your dog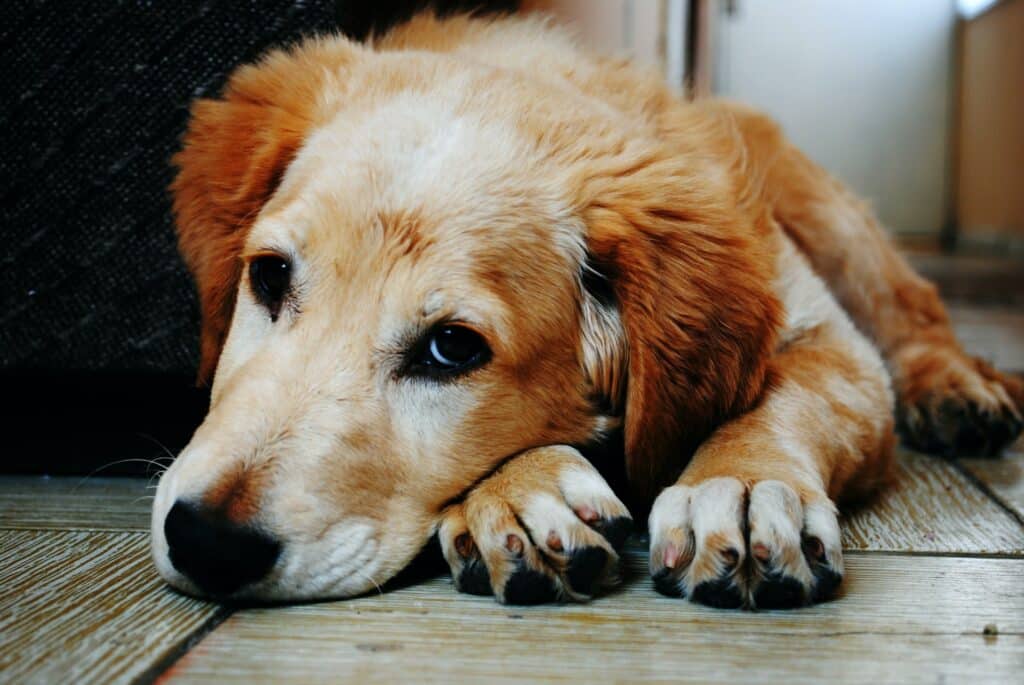 Chocolate Poisoning – What it is
If your dog ingests chocolate and begins to show strange symptoms like vomiting, or a rapid heart rate, he may have chocolate poisoning. In severe cases, chocolate poisoning can cause seizures or even death.
Generally, the first course of action when your dog eats chocolate is to try to get it out of his system, but not without the guidance of a veterinarian. Inducing vomiting and flushing your dog's stomach and other gastric organs are the standard treatment for chocolate poisoning. 
Effects of Chocolate on Dogs
Dogs can eat almost anything, so it's not entirely strange when you see them tempted to eat chocolate, especially the younger pups. The responsibility is on you to stop them from eating chocolate.
Ideally, chocolate is in itself not a wrong food choice, but it contains methylxanthines – theobromine and caffeine – that are difficult for dogs to digest.
During digestion, dogs will have enough caffeine in their blood in 30 to 60 minutes, and they'll be able to eliminate half of the amount of caffeine they've ingested in 4 hours 30 minutes.
However, with theobromine, your dog will take 10 hours to reach the peak level her blood can take and almost 18 hours to eliminate half of the theobromine she has ingested. This is due to the slow digestion of these chemicals in dogs, which causes an upset in their body system.
The resulting effect of consuming high doses of theobromine include:
Vomiting
Diarrhea
Hyperactivity
High heart rate
Seizures and tremors
Death
Note that the severity of these effects depends on how much chocolate your dog has ingested and its weight.
How much Chocolate is too much Chocolate for your Dog?
While it is true that chocolate can be harmful to dogs, the amount that needs to be consumed to cause any harmful effects are relative to the dog's weight and the type of chocolate consumed.
For example, A large dog, such as a German Shepherd, can consume the same amount of theobromine as a chihuahua and not have chocolate poisoning.
According to the American Society for the Prevention of Cruelty to Animals ( ASPCA), your dogs will experience mild symptoms of chocolate poisoning when they consume about 20mg of theobromine per kg of their weight.
However, the symptoms become severe at 40mg per kg, and they will experience seizures at 60mg per kg. This means that if your dog consumes less than 20mg per kg of theobromine, it may not experience any symptoms of chocolate poisoning.
On the other hand, different types of chocolates have different amounts of theobromine. Generally, darker and more bitter chocolates contain more theobromine than lighter and sweeter ones. These chocolates include Milk Chocolate, Dark Chocolate, Cocoa Powder, and Baking Chocolate.
Also Read: How To Stop Dog From Going Under The Bed
How Do You Know Your Dog Has Chocolate Poisoning?
You'll readily know your dog has consumed some chocolate by the symptoms he presents. However, you should keep in mind that your furry friend can have some chocolate and not experience any symptoms of chocolate poisoning.
When that happens, it means he has not ingested enough theobromine or caffeine to cause them any harm. However, below are ways you can tell they've had some.
Open Chocolate Packets
It's easy for you to know your pooch has eaten some chocolate and how much they've eaten if you find the chocolate packets lying around, especially if you didn't open them or it's torn apart.
This may be an unreliable way of knowing if your dog has had some chocolate. However, it works best in combination with other signs.
Symptoms Expressions
Does your dog ever get into your chocolate stash? If so, you may want to be aware of some of the symptoms that could indicate he has eaten some chocolate.
Chocolate can be toxic to dogs, so immediately pay attention if your dog seems to be vomiting or has diarrhea. These two symptoms are the most common ways to notice that your dog ate some of your chocolate.
Also, symptoms such as hyperactivity can point to chocolate poisoning. You may also have to take your dog's heart rate to ensure it's not higher than usual.
What to do After Diagnosing Your Dog with Chocolate Poisoning
Your dog's survival from chocolate poisoning depends on how fast you diagnose and react to that diagnosis. Ordinarily, you should take your furry friend to a veterinarian, but there are situations where that is impossible, and you need to do the treatment by yourself.
Call a Veterinarian
The first step to helping your dog survive chocolate poisoning is to call a veterinarian. They'll give you advice on what to do to help him, probably pending the time you reach a qualified veterinarian.
Usually, you would be advised to give your dog a substance that helps it vomit a portion of the chocolate it has eaten. The most common substance is hydrogen peroxide 3-percent solution.
On the other hand, if a veterinarian is available and close by, take your dog to them as soon as possible. They'll empty your dog's stomach with the aid of a medication – apomorphine.
Afterward, they'll give it activated charcoal to bind with the theobromine and remove it from her system. There may be follow-up doses of activated charcoal, but one dose is usually enough. You can expect your pup to produce black feces after this treatment.
Take Care of it at Home
There is a chance that you'll have to deal with your dog's charcoal poisoning at home. In such events, you'll have to administer hydrogen peroxide into your dog's digestive tract to help him induce vomiting from some chocolate and theobromine he has ingested.
How to Make Your Dog Vomit Chocolate
Frankly, it's hard to wait for a veterinarian to make your dog feel better after taking chocolate. So what do you do as a temporary and quick solution?
Veterinarians suggest hydrogen peroxide as the safest inducer of vomiting in dogs, so let's take a look at how to go about it;
Follow these steps for a hitch-free process of making your dog vomit chocolate.
Step 1: Pour 3% hydrogen peroxide solution onto a tablespoon. Alternatively, you can use a teaspoon. However, Note that three teaspoons equal 1 tablespoon. The dosage is 1 tablespoon per 15 to 20 pounds of your dog's weight and no more than 3 tablespoons for dogs over 45 pounds.
Step 2: Introduce the solution into your dog's mouth and ensure that he swallows it. For an easier way to do this, use a syringe or a turkey baster to introduce the solution into your dog's mouth. It's preferable that the solution directly drops to the back of its mouth. This way, your dog doesn't smell the solution, and you can avoid aspiration.
Step 3: Watch your furry friend for the next 10 to 15 minutes. It should start vomiting within that time frame. If it doesn't, give a second dose of hydrogen peroxide.
Step 4: Collect your dog's vomit sample for evaluation by your veterinarian, and ensure your dog doesn't re-ingest it.
Step 5: Watch your dog for any complications such as lethargy, diarrhea, bloat, or vomiting for over 45 minutes. Reach your veterinarian as soon as you notice any of these complications.
Precautions
To help your dog against chocolate poisoning, you must use a 3% hydrogen peroxide solution. Higher concentrations of hydrogen peroxide can be lethal to your dog.
Also, no more than two doses of hydrogen peroxide are recommended. If your dog doesn't seem to respond as expected, take it to the nearest available veterinarian as a matter of urgency.
If it's been over 2 hours since she ate the chocolate, ensure she eats something before you induce vomiting, although you'll get very little chocolate out of her after 2 hours.
Usually, you should see an improvement in your dog's state after vomiting stops. However, you still need to take them to the vet for further medication and remove the hydrogen peroxide from their system.
Note that using hydrogen peroxide 3-percent solution is the first aid to help your dog vomit chocolate and help against chocolate poisoning.
FAQs on How to Make a Dog Vomit Chocolate
How Long After a Dog Eats Chocolate can You Induce Vomiting?
Usually, it takes about 6 to 12 hours before chocolate poisoning symptoms are evident. However, you don"t always have to wait that long before saving your furry friend from possible seizure and death,
Depending on how much chocolate she ate, you can induce vomiting from 0 to 2 hours after your furry friend has ingested chocolate. However, If a dog has eaten chocolate for more than 12 hours, inducing vomiting isn't recommended. The safest thing to do is call your vet.
Should I Let My Dog Sleep After Eating Chocolate?
Sleep is good for your dog, but not after eating a large amount of chocolate. In reality, your dog will be unable to sleep after eating a considerable amount of chocolate as theobromine and caffeine will inhibit the activity of adenosine receptors, responsible for transmitting the sleep message. As a result, your dog will be hyperactive and won't be able to sleep.
A better option is calling a veterinarian to help your dog or giving it hydrogen peroxide to help it vomit the chocolate it has eaten.
How Long Does it Take for Chocolate to Pass Through a Dog?
The duration for digesting and absorbing nutrients from chocolate and removing them from a dog's system varies with the quantity of chocolate, type of chocolate, and the size of your dog.
Generally, it takes about 2 hours for the chocolate to digest in your dog; however, different chemical compounds in chocolate take longer in the system. For example, theobromine remains active in your dog's system for up to ten hours, and after then, only half of it is removed from her body.
However, caffeine takes about 60 minutes to pass through your pup's system.
Should I Induce Vomiting if My Dog Ate Chocolate?
If your dog has eaten chocolate, it is essential to induce vomiting. Chocolate contains theobromine which is a toxic chemical. And dogs have a much lower tolerance for theobromine than humans, so the effects will be felt more intensely and much longer.
Theobromine is also a cardiac stimulant, meaning it affects the heart and can be fatal, especially to a smaller dog. If the dog eats a small amount of chocolate, it may be safe to induce vomiting using a 3% hydrogen peroxide concentration. However, if the dog has eaten a large amount of it, it is best to call your veterinarian or the Pet Poison Helpline.
Final Thought
In conclusion, chocolate poisoning is a serious and potentially fatal condition. However, if your dog vomits chocolate, these tips will minimize the mess and prevent poisoning. The safest thing to do is keep the dog calm, cool, and as quiet as possible.
After inducing vomiting the chocolate, immediately scoop up the chocolate from the floor and dispose of it. Put a damp towel on the vomited chocolate, then put your dog on a cool (not cold), quiet, dry surface. Contact your vet if the vomiting continues for more than a few hours or lasts more than 12 hours.