Why do dogs eat deer poop? There's nothing unusual about dogs eating deer poo on a walk or in the garden when they come across it. I know my own dog has done it, and I know she is not alone! But how bad is it? Should you be worried?
Well, a quick internet search will do, right? My mistake. I thought I would see what other answers were available, and some of them were quite ridiculous. It seems there is a lot of misinformation out there! It's time to examine this from a scientific perspective.
Four Reasons Why Dogs Eat Deer Poop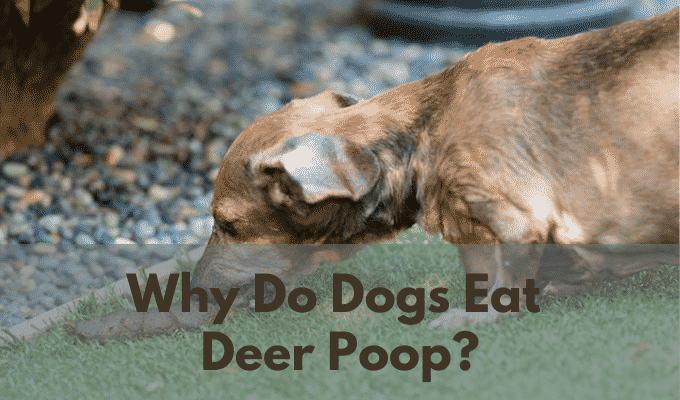 When we multiply that by the total number of dogs, it equals a quarter of all dogs that have once nibbled on their own dung of other species – such as deer poop.
Therefore, let's forget about the stigma for a moment and try to understand the reasoning behind it. My joke was that poop might just be delicious, and who knows – I might be right.
Most scientists believe that dogs eat other animals' excrement because it contains nutrients. You can attribute most things in life to evolution.
This may explain the origins of this strange habit, but there are also specific behavioral and psychological factors at play.
They are Lacking in Nutrients
Since dogs are clever creatures, they will seek out other sources of nutrition when they are lacking. In their ancestral past, deer poop could have contained something they lacked.
Dogs who eat poop for these reasons are usually hungry, have parasites in their intestines, have diabetes, Cushing's disease, or suffer from other forms of malnutrition.
Dogs Eat Deer Poop When they are Anxious or Bored
It is nuanced, but if your dog feels anxious for some reason, it will make your dog eat deer poop nearby.
Your dogs learned it from other dogs in your household
There is a possibility that your other dogs are responsible for this! According to the American Kennel Club, dogs from households with multiple dogs are more likely to eat stools.
Dogs Love the Taste of Deer poop
Let's take a quick break from our dogs. Maybe I'm right, and some dogs simply like its taste. It's a delicacy I can never comprehend or intend to consume regularly, like caviar. But hey, whatever floats their boat.
Also Read: Best Glow in The Dark Frisbee Top 7 Picks of 2022
Is it Possible for my Dog to get Sick from Eating Deer Poop?
YES! Dogs can become ill from eating deer poop or any other feces. You need to make sure the poop doesn't make your dog sick, but at the same time, you also need to determine why your dog ate deer poop in the first place.
Consuming poop is often a sign of an underlying illness or deficiency. Identifying the source of the issue is the only way to stop your dog from eating deer feces — unless you never take them anywhere, they have access to it.
Do I know if my Dog Suffers from Coprophagia?
If you notice your dogs eating deer poop or any other animal poop, it is relatively safe to say they suffer from some degree of diabetes case of interspecific coprophagia. It may appear gross to humans, but it is a fairly normal occurrence in the world of dogs.
Symptoms of Coprophagia
If your dog has eaten any feces, including deer feces, more than five times, they probably have coprophagia. You may find that they have no post-meal symptoms (the most common outcome), or you may find that they have one or more of these symptoms:
Stomach ache
Vomiting
Diarrhea
Intestinal parasites
Infection
Causes of Coprophagia
A dietary deficiency is one of the many reasons why some dogs insist on eating feces. However, the veterinary community believes that this is not the case in most cases. Among these are:
Diabetes
Diseases like Cushing's and thyroid problems
Malabsorption syndrome
Parasites
Drugs like steroids
Diagnosis of Coprophagia
To get your four-legged friend to stop his poop-eating behavior, take him to the vet before you stop taking him for daily walks in the woods. Any medical condition, including those listed above, should be ruled out by a veterinarian through various tests. Upon determining the underlying cause of your dog's need to eat feces, they will be able to recommend the appropriate course of treatment.
Treatment of Coprophagia in Dogs
Digestive enzymes are usually replaced with freeze-dried pancreatic extracts from pigs or cattle when an endocrine pancreatic insufficiency occurs. The extracts are sprinkled on the dog's food, usually 30 minutes before eating. Additionally, the patient will be prescribed vitamins and dietary supplements.
You should treat your dog's parasites with a dewormer and wash their bedding, toys, and bowls in warm water. The flooring should be cleaned and disinfected to help eliminate any remaining eggs.
Dogs diagnosed with deficient diets will need to be fed better quality commercial food. We recommend reading the ingredient label; the first ingredient should be a protein, not a "by-product." your veterinarian may also prescribe Vitamins and dietary supplements. B-12 injections may be necessary for anemic patients.
Even dogs with no medical conditions might eat feces due to behavioral reasons. The veterinarian may advise you to play and walk your dogs more and ensure they spend less time alone. When dogs are exercised and played with, they are more likely to be content. The veterinarian may recommend a dog behaviorist if your dog persists in eating feces.
How to stop your dog from eating poop
Dog owners and veterinarians have seen improvements with a few strategies, including:
Vitamin supplementation: There's been a long-standing theory that dogs eat their feces because they lack some nutrients in their diets. A dog multivitamin could help. It is believed that vitamin-B deficiency is a prime suspect, and studies have backed this claim. Researchers discovered fecal microbial activity synthesized thiamine, a vitamin B. Other research found other missing nutrients.
Dietary supplements: The modern canine diet is higher in carbohydrates and lowers in meat-based proteins and fats than the canine ancestral diet. Supplements for dogs that contain papain, an enzyme that aids digestion, have been successful for some people.
Taste-aversion products: The theory is that certain tastes and smells are as repulsive to dogs as stool eating is to humans, so if you feed or treat your dog with such a deterrent, they will be less likely to poop. Monosodium glutamate, chamomile, pepper-plant derivatives, yucca, garlic, and parsley are ingredients in many of these products. You must treat all the dogs in a multi-dog household if there is a poop-eating problem! To make poop taste worse, some owners spray a bitter-tasting spray on it.
Training and environmental management methods are some of the best ways to stop the problem, including:
Ensure that you have all the necessary equipment for feeding, training, and walking your dog.
Keep the dog's living area clean, including the yard, so there will be no poop for him to pick up.
Owners of cats should keep the litter box clean or out of reach of dogs.
While walking your dog, make sure you pick up after him right away.
Learn the commands "leave it" and "come." One simple exercise is to teach your dog to come to you for a food treat after he eliminates. The dog will develop a habit of running to you for a tasty treat instead of reaching for the unpleasant one on the ground.
FAQs
What is the purpose of my dog eating deer poop?
Without a 'normal' stomach with a 'normal' digestive system, deer may skip some nutrition that dogs can access and would thus stimulate your dog to eat deer poop. Because of the by-products of fermentation, this poop may even smell attractive to them.
Do dogs like to eat deer poop?
A dog can eat a lot of nasty things, and deer poop is no exception. Dogs, whether they eat cat poop or dog poop, and yes, even deer poop, love to consume poop. No matter how disgusting it is to us, it's a reality of the canine world.
Why does pineapple stop dogs from eating poop?
According to one theory, pineapple will prevent your dog from eating poop because pineapple contains bromelain, an enzyme also present in meat tenderizers (another additive dog owners believe will stop the habit, but it's an unhealthy remedy). Dogs exhibit this unappealing behavior known as coprophagia, a pretty common occurrence.
Can dogs get parvo from deer poop?
Eating deer poop won't give your puppy parvovirus. As deer are a different species from dogs, they do not get sick from canine parvovirus. However, you should still keep your dog from eating deer poop because it can carry other diseases.
Does banana stop dogs from eating poop?
Bananas have a high fiber content that benefits your dog's digestive system. Fiber helps move food along the intestinal tract, resolving constipation, diarrhea, and some blockages.