If you've ever tried to trim your dog's nails, you probably already know it can be pretty difficult.
So your hesitation in doing it again is reasonable.
However, trimming your dog's nails is an important part of keeping your furry friend happy and healthy.
As a general rule, if your dog's nails click against floors, it indicates they are too long and require nail clipping.
These tips will help you get them done easily and effectively
Tips to Trim Dog Nails Correctly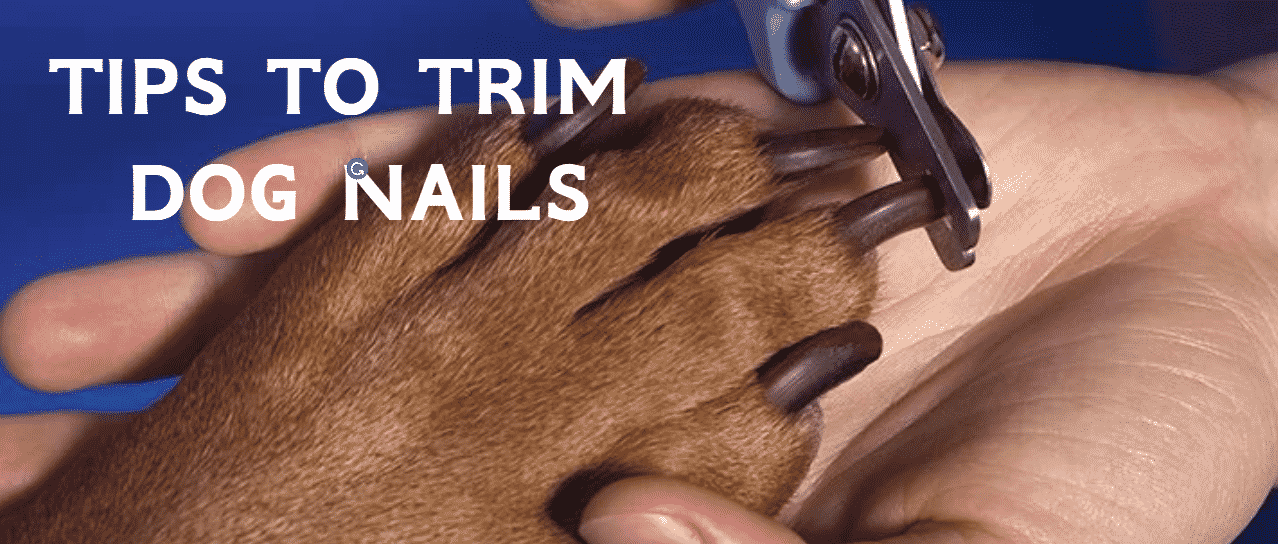 Below are some tips to help you learn how to trim dog nails efficiently and effectively. Also, they will save you time and money rather than having to visit a vet.
Timing is everything when it comes to dog nail trimming. Remember that your pet's nails grow constantly, so how frequently they require trimming depends on their lifestyle. If your furry friend often walks on grass or sand, cutting is necessary because these surfaces won't wear down the dog's nails tips.
Use
Your nail clippers should be sharp enough before you start your clipping procedure. Always start clipping from the nail tip, and then clip a small part at a time. Remember never to cut the pink part to avoid bleeding.
However, in the case of bleeding, use a styptic stick or even baby powder, and apply pressure until the bleeding stops. The sharper the clippers, the quicker you cut the nails. The cutting blade on guillotine-style cutters can be replaced if you think it is no longer sharp.
Before you start trimming the nails of your pawed pal, grip gently and then rub its paws. Once your pup allows you to push gently against the middle of its paws, you should reward him.
Use
The American Veterinary Medical Association says it's safe to trim your dog's nails at home. However, consider taking him to a groomer if your pooch is utterly unhelpful while clipping his nails. They know how to make a dog cooperative for trimming procedures.
Before clipping, it is important to organize the grooming materials. The important materials include Towel, Clippers, and cotton. The towel is normally used to swathe your pup and safeguard him well. But make sure that you shouldn't wrap him too tightly, just enough to protect yourself from his other feet.
When it comes to clippers, they are available in several varieties. If you are looking for a durable style, you should go for the guillotine design or the one similar to scissors. These options don't consume too much time to get around the nail placed appropriately. In fact, they are much more simple, quick, and more accurate.
Position the nail clipper in the right place and wait for a well-timed moment when your pooch stops wriggling. Before trimming, double-check that the dog nail clipper is placed correctly, then squeeze firmly and pop off the nail.
If you cut the nail quickly and bleeding starts, you need to apply pressure to stop it. Cotton will also absorb the blood. It may be possible that your dog may bleed slightly more, but do not be getting as it is common and will stop soon.
Use
This is another item that helps in ceasing the bleeding. You can purchase styptic powder or use cornstarch and flour as an alternative. If you have no access to coagulants, press your dog's nail into a mild soap bar. Make sure that you wipe away excess blood before the application of coagulants.
Using a Dremel tool can be a better alternative to file and smoothen your dog's nails.  This tool does not crack or pinch the nail like clippers are prone to. Once you are comfortable using Dremel for nail trimming, you'll find it a quick and easy way to trim the nails nicely.
If you are anxious about trimming dog nails, you should get someone's help to make the whole process more convenient. One person can hold your pooch and calm him, while the other can easily cut the nails.
It would be better that you attempt a clipping when you are entirely confident that you will be able to clip the nails correctly. Massaging your dog's paws for a few days beforehand makes the dog more comfortable with you. 
While trimming your dog's nails, only remove one foot from the towel at a time. Only concentrate on trimming the tips. Ensure that you don't cut them too short and avoid cutting them quickly.
Final Thoughts
If your dog's nails are too long, it will make it hard to walk around properly. It is always a good idea to lay your dog down on the floor while trimming his nails.
When you are done trimming your dog's nails, you should give him a treat because you will do it again and want your dog to be cooperative each time. If bleeding occurs, don't panic. Let the bleeding stop naturally, or apply a styptic pen to stop the bleeding instantly.