Flirt poles are pretty popular with dogs, as they provide all the attention and activity that most pooches crave. If you notice that your pup loves to play fetch or tug-of-war, it might be a good idea to learn how to make a flirt pole for dogs yourself.
These poles are a great way to keep them off the furniture and can be used for training if you want to teach your dog a lesson.
You can get a flirt pole at a pet store, but it's easy to make a flirt pole for your dog using a PVC pipe, some fishing line, and a couple of different-colored plastic toys.
So let's get started and make your DIY flirt pole at home.
What is a Flirt Pole?
A flirt pole (also known as a flirt stick) is a pole that is designed to help dogs get attention from people. You use this type of pole to help your dog burn energy by having them chase a fast-moving lure.
It's a fun way to increase the dog's level of activity. You can also use the flirt pole for training purposes, such as teaching a dog to sit or stay.
This article will guide you through the process of making your own flirt pole for dogs at home.
Also, Checkout: Best Glow in The Dark Frisbee of 2022
How to Make a Flirt Pole for Dogs At Home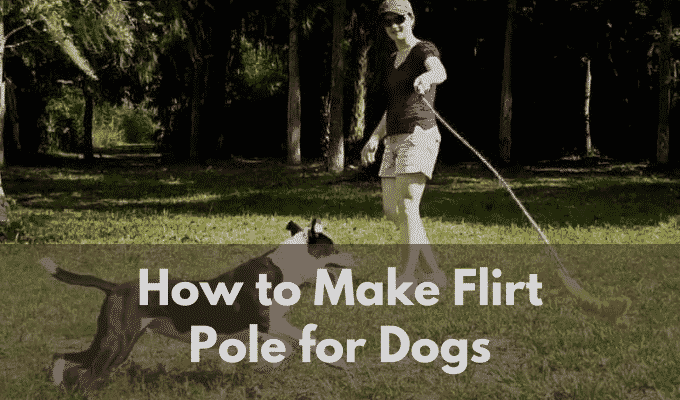 I'm going to give you some easy, simple ways that you can make a flirt pole for dogs at home.
Materials you'll Need to Make a Flirt Pole at Home?
Making a Flirt Pole at home is easier than you think. With these few basic materials, you can construct your own pole.
A PVC Pipe of 4 feet in length.
A 10 feet long durable rope.
A few Washers.
Handgrip or sports tape.
A dog toy such as chewers.
Step-by-Step Procedure to Make a Flirt Pole for Dogs
Take the PVC pipe and cut it at a length of 4 or 3.5 feet (whatever you find suitable for your flirt pole).
Take the rope and pass it through the pipe, and at one end (where you will be holding the pole), thread the rope through the washers so that it doesn't slip over and comes out.
Now use handgrip/sports tape to cover the side of the washers so that it doesn't hurt you when you are playing with them. Moreover, it will also be a little comfortable for you, especially when you get sweaty. You can buy lime green tape to make your pole fancy.
Finally, tie the dog toy at the other end of the rope; you can also attach something to eat or anything you want to use to lure your dog. Now your dog can have a fun game of fetch with their new toy!
Here are some tips for you from the Lessons Which I learned
The first time I built a flirt pole at home, I had no idea what I was doing. The result was a piece of equipment that didn't work right and looked terrible! So here are a few things that I learned from my first flirt pole.
The pipe should be the correct size for your dog. You want it to be long enough to give some distance between you and your dog but not so long that it's difficult to bend.
A good flirting pole is lightweight and easy to carry. So, use the right pipe size; a thick pipe will be too heavy, while a thin pipe will be too weak.
If you're using a cord with a short length, you may find it challenging to play. That's why I recommend adding a little extra length to the rope so that you can adjust the size if needed.
When selecting a toy, be aware. Dogs can destroy the wrong toy in seconds. Choose a chewer which can last longer.
Use plastic or duct tape to attach the washers with pipes for extra safety. Don't let your fingers get in the way! I accidentally caught my fingers between the washers and the pipe as my dog grabbed the lure.
Reasons You Should Use a Flirt Pole with Your Dog
Flirt poles are the perfect dog toy for both the dog and the owner. They provide entertainment for both of you, but that's not all they're good for!
Here are six reasons why you should use a flirt pole with your Dog
Build and Stimulate Drive
Flirt poles are an entertaining way to increase your dog's drive to work and play. Flirt poles increase your dog's desire to do things, but they also help them learn new behaviors, like fetching, tugging, and playing with a chew toy. With a flirt pole, your dog will get a sense of purpose. They'll want to work and play more. So get one and watch your dog get excited to do all kinds of things.
Improve Stamina
The Flirt Pole is a piece of fantastic exercise equipment for pet owners who want to improve the stamina of their dogs. It is a unique exercise that will help your dog build muscle and burn excess energy simultaneously.
Improve Physical Conditioning
Playing with Flirt Poles can help improve your dog's physical condition! If you have not tried this before, it is a great idea and will be worth your time. You'll see that your dog will enjoy playing with Flirt Poles, and your dog will also get a lot of exercise.
Improve Cognitive Abilities
Playing with Flirt Poles improves the cognitive abilities of dogs, including their ability to focus and remember things. This means they are more likely to behave appropriately in different situations. Flirt poles provide a variety of stimulation, allowing your dog to be involved in a game-like activity. It will enable them to focus on a single goal while playing or even sleeping.
Excellent tool to Train Dogs
A Flirt pole is a great tool to train dogs! I have used them to teach my dogs all kinds of tricks. If you're looking for a way to help your dog learn commands, look no further than flirt poles! There are even videos on the Internet showing people training their dogs to use a Flirt pole.
Build Deeper Bonds
A Flirt Pole helps to build stronger bonding between humans and dogs. They will help your dog feel comfortable. When your dog feels relaxed, it will react positively to you.
Conclusion
A flirt pole is a fun toy both for the owner and pet and making one at home is quite a simple and easy task.
Instead of purchasing the flirt poles, we always recommend doing DIY projects as they are more sustainable and relatively cheaper than the ones available in the market.