Dogs sometimes require surgical operations to keep them in the best health condition possible. However, sometimes it takes longer for your fido to fully recover from surgery.
So, To make sure that these treatments work as well as possible, vet doctors often put Elizabethan Collars, also known as the dog cone, on your dogs' heads to protect them from the infected area.
The problem, however, is That most dogs hate wearing cones. It makes them feel trapped, uncomfortable, and even scared. As a result, we may be tempted to remove the cone before the dog has fully healed. This can lead to complications such as infection or scarring.
I've seen this happen to my fido when she had surgery and it can be scary. But how long do dogs really need to wear a cone? And why is it that much of a big deal after surgery?
These questions have bothered me for a while. So I decided to speak to a couple of veterinarians. But unfortunately, I found that there was no clear answer. It all depends on the sustained surgical procedure and the dog breed.
I'm going to share my findings on how long your dog may have to wear a cone and help you understand why they must wear the e-collar until treatment is done and your veterinarian approves. You'll also learn to ensure your furry friend does not suffer any discomfort during recovery.
Why Dogs Need to Wear Cones after surgery
Some dogs may not understand why they must wear a cone for several days after surgery. As a result, they may try to remove the bandage themselves, causing further infection. After speaking with top veterinarians in the country, below are reasons that will help you understand why they must wear the cone for several days after the surgery.
Protects Your Dog's Skin From Infection
After the surgery, the doctor places a bandage over the incision site. This helps prevent bacteria from entering the skin. However, if your dog tries to remove the bandage, she could get an infection.
Keeps Your Dog Comfortable During Recovery
When your dog wears a cone, they feel more comfortable. In addition, wearing a cone keeps the fur off the affected area. This prevents the fur from becoming dry and irritated. Dry fur can lead to itching, which causes your dog to scratch. Scratching leads to open wounds and infection.
Helps Prevent Scarring
If your dog removes the cone too early, she may develop scarring. This is because the cone protects the skin from rubbing against itself. When the cone comes off, the skin rubs against itself, causing friction and irritation. These irritations can cause scars.
The Cone Allows Your Vet To Check the Incision Properly
Your vet needs to check on your dog frequently to ensure no swelling, bleeding, or discharge coming out of the wound site. The e-collar acts as a barrier and stops your dog from biting the veterinarian
So, How Long Should Dogs Wear the Cone?
There is no set time limit. Some vets recommend leaving the cone for 1 week; others say 2 weeks. It all depends on the type of surgery your dog underwent and if there were complications.
Let's take a look at some unique treatment procedures and the recommended time to leave the cone on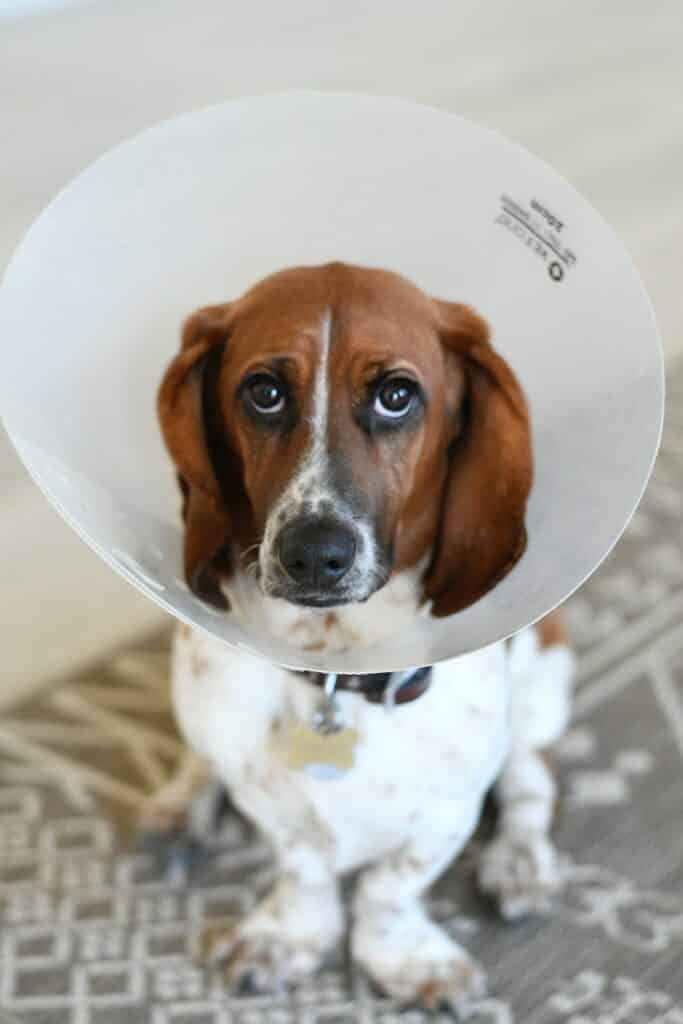 Dissolvable Stitches
Dogs who get dissolvable stitches usually have the stitches absorbed fast. In these cases, the cone should come off after 2 weeks. However, you may still find your dog licking the spot after removing the cone. you should not be worried about that
Eye Surgery
For eye surgeries like glaucoma, expect your dog to wear an e-collar for up to four weeks. However, eye surgeries are more delicate, and when to remove the cone should only be decided by your ver. Another great alternative to the dog cone is having a unique muzzle/cone made for them to wear over the eye. These are usually easier to put on and take off
Neutering
if your furry friend licks around the area of the neuter. It would damage the incision and may cause pain, swelling, redness, or discharge around the incision site.
Ideally, most neuter incisions are fully healed within 10–14 days. However, you should still contact your veterinarian for the green light.
Laser Neutering
Studies have shown that laser neutering has a less than 1 percent complication rate, which is less than half of what is associated with traditional dog surgeries. Its advantages include reduced bleeding, blood loss, and rapid recovery time. To be safe, it's recommended to keep a cone on your fido for 2 weeks after laser neutering.
Spaying
If your female dog was spayed, it's essential to keep the dog cone on her at all times for the first 10 to 14 days after surgery. This will allow the stitches to heal over the weeks, and you should make sure that she cannot chew or remove the cone.
TPLO Surgery
TLPO surgeries are a more complicated process and may require more extended recovery periods. It is normal for one or both of your dog's knees to be slightly sore for the first week. However, you should start to see a decrease in swelling within two weeks from the surgery date. With a Tibial Plateau Leveling Osteotomy (TLPO), your dog would have to wear a cone for at least one month.
Ear Cropping
After cropping your dog's ear to your desired shape, he will need to wear a dog cone for up to four weeks to keep him from rubbing the ears or scratching them. These surgeries are common with Dobermans, Great Danes, and Boxers and take 14 days for the ear lesions to completely heal.
Can You Take The Dog Cone Off Temporarily?
You can take the cone off in certain situations, such as during eating. However, if you choose to remove the cone, you must supervise your dog so that he does not lick or bite the area around the incision.
You should keep your fido confined to her house or a small enclosed area and return the cone immediately after the short break to ensure proper supervision.
So, How Do You Put The Cone Back Correctly?
If you're taking the cone off for walks and feeding periods, you'll need to securely put it back on. Here are proven and recommended steps I use to put a cone around my dog:
Step 1: First, detach the strings that are holding it together
Step 2: Next, grasp the top of the cone and pull it down until it is snugly against your dog's head.
Step 3: Wrap the bottom part of the cone around your dog's neck just above their shoulders. Ensure the dog's ears are also inside the cone
Step 4: Make sure that the dog cone is tight enough to not slip off but loose enough for your dog to move his head freely.
How to Make Sure Your Dog Feels Comfortable While Wearing A Cone After Surgery
Keeping your dog calm and relaxed when recovering from surgery is vital. This way, his body has enough energy to heal. Below are some tips that would enhance your fidos recovery by wearing a cone.
Make sure your dog gets plenty of water. Water helps flush out toxins and waste products. It also helps hydrate the blood.
Make sure your dog eats well and gets lots of rest. A tired dog cannot heal fast.
Remember that your dog is still recovering even though she seems fine. So be patient and do not force your dog to move around.
Help your fido when she needs to drink or eat.
You can always ask your vet about the proper time to temporarily remove the cone.
Consider alternatives to the popular plastic cones
Reward your dog for good cone behavior
Are There Any Disadvantages to Your Dog Wearing a Cone?
Difficulty in Drinking
Studies have shown that most dogs are not able to drink or even eat in a cone. And sometimes, when they try to, the cone can get in the way of your dog's jaw, which can cause the pet to swallow awkwardly.
Possible Collar Related Injuries
Dog cones are an excellent solution for keeping your dog from biting, licking and scratching at wounds. However, it takes time for your dog to adjust to it. In addition, because it impairs movement in the early stages, dog cones can cause your dog to run against the wall and fall off the stairs unknowingly.
Difficulty Playing
Dogs hate these cones and will do anything to get them off because it prevents them from playing as they would like to. They can spend countless hours trying to lick off the cone and often become very frustrated and agitated. So if your dog is wearing a cone, you have to be extra vigilant and be prepared to give more attention and playtime to help him over his frustration.
Alternatives to The Famous Elizabethan Collar/Dog Cone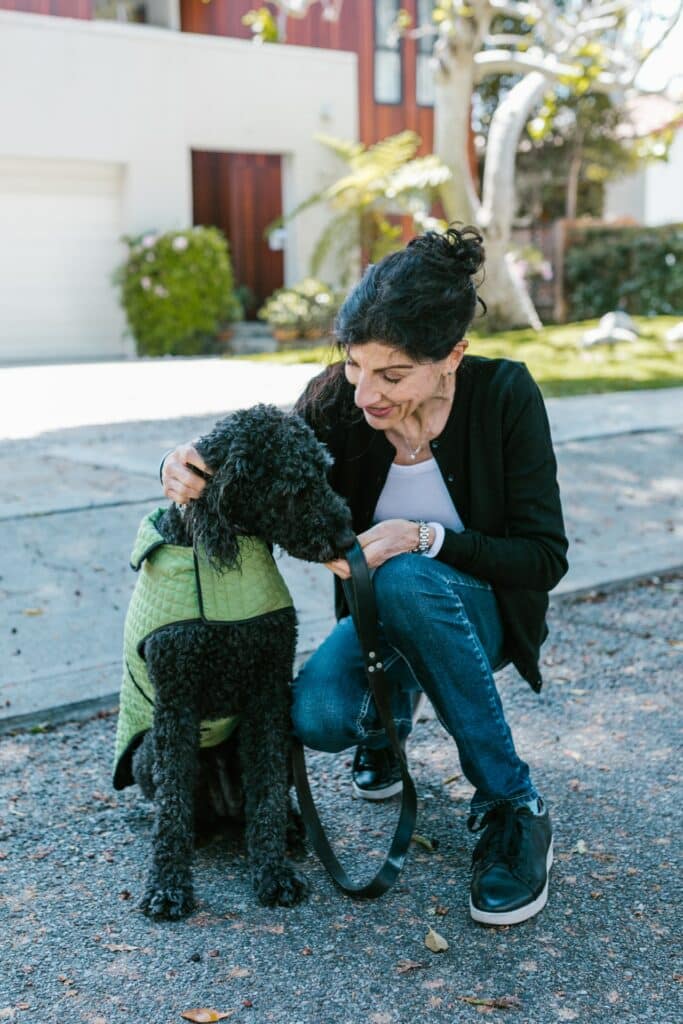 To be honest, Elizabethan cones can be a menace for some dogs, and I had to deal with a lot of using them on my Doberman. He is a bit jumpy, and the cone got him a bit anxious, so he did everything to get away from it. This included running against furniture in the house to break free from the cone.
I had to speak with my veterinarian, and fortunately, he recommended some fantastic alternatives, which I will be sharing below.
Neck Collars
Neck collars are most often better alternatives to traditional cones. I've used them, and they work really great. They are soft, smaller, and easier to wear by just wrapping them around fido's neck.
Inflatable collars
Inflatable collars look a lot like neck pillows, which allows dogs to accept them more easily than the traditional rigid cone. I also prefer them because they are softer and more comfortable to wear.
Inflatable collars are available in a wide range of sizes, and the devices can be adjusted to fit the breed and the neck size of the dog in just a few seconds.
Dog owners no longer have to worry about their furry friend damaging the cone and making a mess. These collars are also easier to clean, which can be very convenient when dealing with dogs prone to vomiting.
Surgical Recovery Suit
Surgical recovery suits are the best option if your dog can't stand anything on her neck at all. They are lightweight and breathable fabrics that come in many different sizes, colors, and patterns, so it is easy to find something that will match your dog's lifestyle.
When choosing a fabric, it's essential to consider how well the garment fits your dog. He should be able to comfortably stand, sit and lie down in the fabric and shouldn't be able to rub or scratch at it. Remember, it's not just a fancy dog cloth; the goal is to protect your dog's incision from getting soiled as he recovers from surgery.
How Do I Help My Dog Beat The Collar Of Shame?
here are four tips that can help your dog recover faster from surgery
Restrict Activity
The first important step in dog recovery is to rest. Dogs are particularly prone to injury during the recovery period and need plenty of time to rest and recuperate from the stress of surgery.
So, the dog's activity must be kept to a minimum after surgery to prevent excessive swelling or discomfort, and it is best to keep the dog off hard or polished floors for up to six weeks after surgery.
If a dog is allowed to resume regular activity too quickly, it can result in further injury and hold up recovery time further. Instead, you can try to restrict the dog to a confined area if possible This way, you can keep an eye on him better.
Manage Medications And Don't Skip Follow-Up Appointments
Your dog's veterinarian should develop a treatment plan to outline the steps your dog needs to take to recover. A comprehensive treatment plan should include a plan for medication, your dog's diet, and any follow-up appointments with your veterinarian.
So ensure you don't mismanage your fido medications and always follow up on the vet's appointments. This will hasten the healing process of your dog after surgery.
One of the primary causes of a dog's late recovery is the owner's tendency to manipulate the dog's bandages when they notice swelling and blood. Unfortunately, this can cause infections and even permanent scarring. You should always let a professional handle the bandage changes to avoid these complications.
Take Fido for a Supervised Walk
Taking your dog out for a walk after surgery is one more thing you can do to help ensure that recovery goes as smoothly as possible. Just follow these simple guidelines to make sure your dog's first post-surgery walk is a safe and pleasant one:
Don't leave your dog alone at any point
Ensure that your dog has been fed before taking him out for a walk
Keep your dog away from other dogs
Avoid putting your dog into unfamiliar environments
Be patient and give your dog lots of love and attention
Do not force your dog to exercise, such as playing frisbee
Give your dog lots of hugs and kisses
Dedicate More Time to Keeping Your Pup Happy
Spending time with your pet is a great way to bond and keep them happy after surgery. Here are some guidelines from the American Society for the Prevention of Cruelty to Animals:
A few days after surgery, your pet may be very quiet or irritable. Encourage interaction with them to see how they are feeling.
Ask your veterinarian about physical therapy or rehabilitation exercises that you can start a few days after your pet's surgery.
Your pet may be more sensitive to colds after surgery. Bring them indoors when the air temperature is below 45 degrees Fahrenheit.
Some pets may be more sensitive to sound or touch after surgery. you should reduce their exposure to loud noises or being picked up and carried.
Turn on the tv and place your dog in a silent, confined space when you have to step out for long periods.
Other FAQs On How Long Should a Dog Wear a Cone After Surgery
Can My Dog Sleep With A Cone On?
After the initial adjustment period, your dog should be able to sleep with a cone. It's essential to keep the cone on at all times to keep your dog from licking the wound and aid a speedy recovery.
Can I Neuter a 2-year-old dog?
The short answer is yes, it is possible to neuter a 2-year-old dog. Ideally, male dogs need to be neutered before 6 months of age as the testicles descend. However, it's not difficult or impossible to neuter male dogs at 2 years of age and up.
How long should a dog not lick after being neutered?
The swelling and pain of neutering can make your pup super grumpy for a couple of days, and he will usually want to lick the spot soon after the procedure. However, vets recommend not letting your dog lick or chew at the stitches for a week or two to avoid infection, but after complete healing, letting him lick is up to you.
Can dogs get depressed wearing a cone?
Studies have proven cones reduce a dog's activity, making them sad and depressed. So it's not a good idea to keep your dog in the cone for long periods. It is horrible for their mental health. If you find yourself having a depressed dog due to cone usage, you should contact your veterinarian for therapy tips to get fido active again!
Conclusion
For a dog recovering from surgery, a cone has many benefits. It protects the incision from licking and scratching. However, your dog may feel more comfortable wearing alternatives such as an Inflatable collar or surgical recovery suits.
I hope this article helped you understand the different types of surgeries available for dogs and how long to expect your dog to wear a cone. Of course, by now, you should also know exactly what to do to hasten your dog's recovery.